One thing I hope people don't overlook with PoF self-serve ads is their conversion-tracking pixel. This has helped me optimize my campaigns immensely as it provides the ability to see which ad group is profiting and what isn't – with ease.
You can essentially compare clicks vs conversions.
CTR is a great indicator of ad effectiveness, however, it isn't a great indicator of ads that actually convert!
Now, you might be wondering "OK sounds cool, but where the hell is this damn tracking pixel you speak of? What is a tracking pixel anyway?!?".
I'll explain: a tracking "pixel" is basically a link back to a tracking platform, whether it be your prosper202 setup or PoF's campaign management interface, which gets "fired" (loaded) each time you get a lead. Most networks allow you to place one or more pixels, which I take advantage of.
It initially took me a while to find it but in order to get your PoF tracking pixel, you'll need to to go "Conversion Reports" first and grab it there. I've had no issues using the image for tracking. Most platforms only require the actual URL and not the full html-embed code, so copy and paste that link as a "pixel" and make sure you select "image" as the type.

Once you get it going, after a while of your campaigns running, you should now be able to see something like this: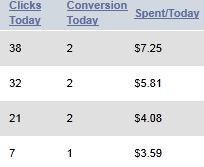 As you can see, I have a -ROI in the first ad group as the offer payout is $3.50, but I know from history that this usually will turn around and profit.. I won't let 25cents deter me from running that ad group. Until I'm losing as much as the payout, I assume it still has potential.
I hope this helps.
– Andrew
---
If you're looking for further Affiliate Marketing Guidance, check out StackThatMoney. Best community of experienced marketers from around the globe, exclusive meetups, follow along's, tutorials and the knowledge of a thousand sun-gods.
-=-=-=-
Can't Decide on Tracking Software?
I've recently switched over to a new tracking platform called Thrive by the guys over at iPyxel which I love. It's still in development, but is constantly improving and making strides, and the best part about it can be self-hosted. The offer a 30-day trial and it's $99 a month thereafter which is well worth the investment.
Those on a smaller budget can still opt to go the CPVLab route, another favorite of mine but a little more outdated. It is, however, more suitable for PPV traffic if that's your traffic of choice.
---