As I depart Bangok to head to Phuket for some more fun-in-the-sun, I had a slight realisation about how the majority of "businessmen" and women in Thailand have a similar hustle in real life that can be related directly back to affiliate marketing. Stepping off the plane at Suvarnabhuni airport, we were immediately hustled into a "tour of the temples" with an English speaking guide. The price was attractive and it was something which sounded interesting, so we took up the offer.
Exiting the air-conditioned airport and hitting a wave of thick, somewhat unbearable humidity, we hopped into a cab and headed to our hotel (Legacy Suite Bangkok – recommended). The next day we were greeted by our dedicated "tour" driver, Paul, who drove us to the first Temple, the golden Buddah where we were greeted by our tour guide Pen.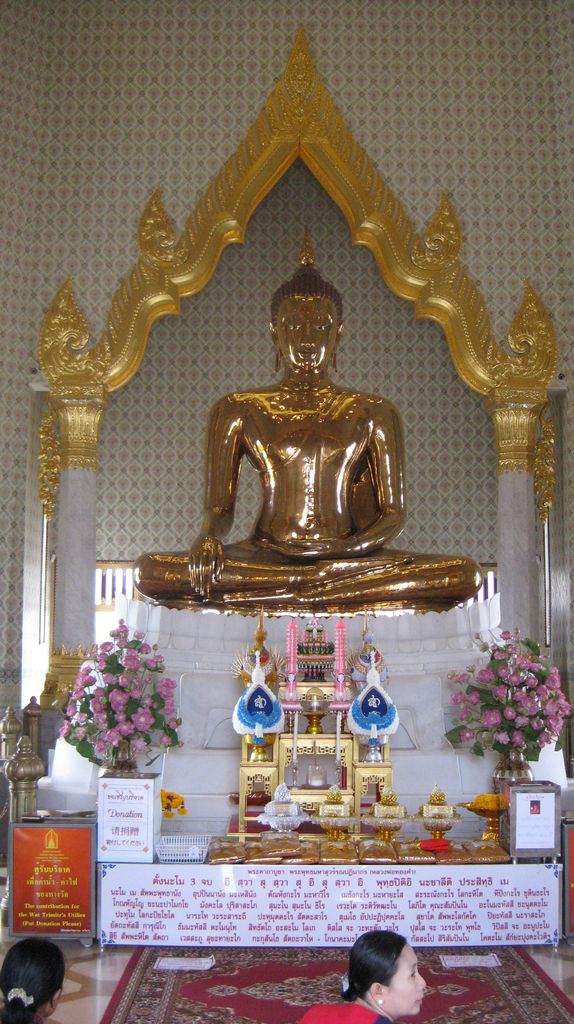 Now, not to misunderstand my opinion of Pen, as lovely as she was, she was a conniving businesswoman fishing for commissions. Her business model was similar to the likes of a co-registration path or a surge of emails to someone on your email-list. To be honest, I actually admired how elaborate it was and it really reinforced the importance of up-selling, cross-selling, and generally bombarding your sorry-ass with offer after offer, even if they're unrelated. The chances are, something's gotta stick. But there's a downside to this too, which can negatively affect your sales.
We were offered other tours that might interest us (such as the floating market), taken to a tailor, several jewellers, a "tour-office" and an underground counterfeit watch and bag shop (very convincing replicas). In-between the temples, we were up-sold on nearly everything that Thailand has to offer. Kudos to Pen for her skills in sales too, as everything she offered us almost always came with a special and exclusive price if we went through her for the sale.
Needless to say, I knew her agenda, I couldn't help but feel as if I was helping out someone less fortunate than myself on top of getting "special prices" for everything. Pen was quite skilled at pre-selling. It worked on us, more than once. We refused quite a lot of her offerings, but we did take her up on the special 450 baht per hour massage from an exclusive masseurs (there's always a catch – 2 hour minimum!), a  sky-hotel dinner buffet, a replica watch and a leather bag. I truly wonder what margins she was working with. One taxi driver informed me that some of the Tailors pay out a commission of 35% to the taxi-driver if they drop off a paying customer, which equates to about 2,000 baht (about $60 AUD).
On top of that we left her and the taxi driver with a healthy tip to show our gratitude for whoring us out around town in order to make some cash.
So, what my experience teach me? Not a lot that I didn't already know, however, it reinforced ideas and tactics that I had learnt in the past.
Here's what I took away from it and how it can help with any future affiliate marketing campaigns that involve a sales-funnel of some sort:
Pre-selling is damn important, as a "massage" wasn't good enough to make the sale as we knew we could get a good price and a massage practically anywhere in Bangkok. The angle in which this was sold was unique in that apparently the masseurs were strong, experienced professionals and from the official massage school in Bangkok.  On top of that we got a special and exclusive price through our tour guide. After all that, we were sold, she mentioned during her "sales speech" that it was 450 baht for an hour (about $13 AUD), which was followed up with a "2 hour minimum" condition attached to it.
Be elaborate and creative in how you chain together offers. I found that bombarding us with a shit-storm of offers was quite annoying and really, if I had the choice to, I would have ended the tour then and there after the 2nd or 3rd attempt at selling me something I didn't want. For instance, the jewellers we were taken to, both of which she was obviously affiliated with, were more targeted towards females. Granted I am travelling with a female friend of mine, wouldn't make sense to take strictly males to. You're going to effectively piss your potential clients off to the point where any future sales attempt is going to be quickly dismissed due to lack of trust and frustration.
Networking is vital to "offer" accessibility/expanding your reach. If you know the right people, you can offer what others cannot, which inevitably means less saturated markets. I've also heard an interesting case where, in certain parts of Thailand, an entire shopping district uses colour-coded plastic bags to indicate the type of consumer the person is, such that, other shop keepers can tell whether or not you're a sucker and will pay anything or a bargain hunter and hustler which will give the shop keeper a hard time with prices.
Pen wasn't the only one attempting to make a buck however, nearly every taxi and tuk-tuk driver in town has some affiliation with local businesses. The basic rule of thumb I found was that if it's too cheap, be suspicious. If you get offered a taxi ride "anywhere" for 5 baht, the driver has an agenda.
This experience has motivated me to put more time and effort into list-building and pushing offers via the list as it's something I don't take advantage of enough in my current campaigns.
Hopefully this post has stimulated your mind into how real-life hustlers can translate into an effective affiliate marketing campaign and provided you with some ideas.
-Andrew
---
If you're looking for further Affiliate Marketing Guidance, check out StackThatMoney. Best community of experienced marketers from around the globe, exclusive meetups, follow along's, tutorials and the knowledge of a thousand sun-gods.
-=-=-=-
Can't Decide on Tracking Software?
I've recently switched over to a new tracking platform called Thrive by the guys over at iPyxel which I love. It's still in development, but is constantly improving and making strides, and the best part about it can be self-hosted. The offer a 30-day trial and it's $99 a month thereafter which is well worth the investment.
Those on a smaller budget can still opt to go the CPVLab route, another favorite of mine but a little more outdated. It is, however, more suitable for PPV traffic if that's your traffic of choice.
---