*shhhh* .. quiet… Do you hear that? That's right.. that's a tumbleweed you hear whooshing past the FitAffiliate blog. Ahem, allow me to dust off some of the cobwebs from my keyboard and provide you all with an update. It's been a while.
I know you missed me, people have been bugging me to update my blog like crazy (not really). My life as of  late has been a mixture of traveling, networking, building relationships in business and researching cultures and markets internationally.
I dipped off to Asia for quite some time to attend several conferences and to get familiar with foreign cultures in countries I plan to extend my marketing efforts to. Oh and to sightsee, of course.
I met a tonne of awesome fellow affiliates and created some solid connections & friendships along the way. In short, it was awesome. I love our industry. I love the people you meet. I love the opportunity, freedom, creativity and the diversity of individuals in this business.
It's always amazing to meet and socialize with those who share a similar drive, mentality and ambitions. I first started my journey in Malaysia where I got to meet and hang out with friend of mine, Dan, who's a well versed, highly experienced affiliate with an excellent foundation of knowledge. I learned a lot from him by just being in general day-to-day conversation and was incredibly inspired by his efforts in business. Dan is someone who doesn't play around, has built himself a team and is definitely in a position which I aspire to. It is indeed, conducive to surround yourself with successful individuals with similar passions and goals in order to keep you motivated and inspired.
My next move was into the politically unstable capital of Thailand, Bangkok, for what would be the most epic of all meetups to date.
STMBKK
STM Bangkok is the largest meetup I've attended to date. Affiliates from all over the globe came to the capital for a 3-day event, followed by a relaxing wind-down in Koh Samui for further networking opportunities and fun. For the uninitiated, STM stands for StackThatBaht StackThatMoney, which is a community of serious affiliate marketers from all walks of life, operated by some of the most knowledgeable people in the industry. There were several hundred people (approximately 300) who attended the official conference, which involved speeches by numerous people in the industry, covering topics such as Motivation, Outsourcing, Mobile Marketing, Legal Mumbo Jumbo and more.
One of my good friends Josh Mayne (Maynzie), of whom has been a moderator over at STM for quite some time, had the chance to talk, where he covered the all important topic of maintaining a positive mind-frame, a drive for success and never giving up on the dream. As he himself is a big part of why I was able to push through many of my darker days as an affiliate, I suggested that he use 'case-study' examples in his talk, and to briefly mention the many people he has helped along the way and where they came from to where they are today.
Sitting in the conference, Josh approaches the podium to begin his talk, and not too far into his speech a big photo of me was plastered on the large projected screen behind him. I sat there a little embarrassed as the photo used wasn't the 'manliest' one, but at the same time, I felt quite honored to be a big part of his speech. He truly is a mad dawg.
Josh's speech was entertaining and motivational to say the least.
Others who spoke included Mr Green, Jordan R, Besmir, Benjamin Yong, Nicky Cakes, Caurmen, Tal Itzak, Tim Tetra and I believe a few others (apologies to those I left out).
The speeches were then followed by mingling at Ocean club that night where we all battled the stinking Bangkok humidity and wore pants (yes, pants!) in order to please the bar owner. The party was awesome, I had a great time meeting and greeting all the lovely people and of course, getting my drank on.
The next parts of the itinerary I simply didn't have the energy to include myself in. Some attended a Muay Thai fight and also the weekend markets, but my battered, hungover soul couldn't make it out.
Thankfully I was able to conjure up the energy for one last sh'bang at Octave bar – an awesome Rooftop bar at the Marriot, before heading off to Koh Samui the next morning.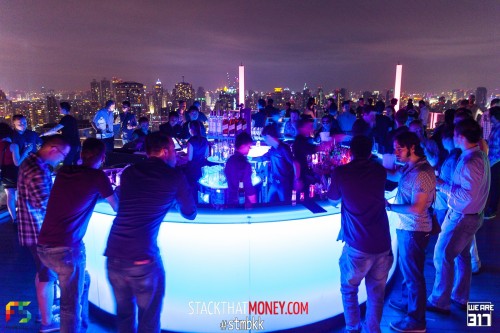 Not a lot to be said about my short stay in Koh Samui, other than, I will for sure be back to visit as it's an awesome island. Great for partying & relaxing. This part of the trip was basically an extension to the Bangkok leg, where, interested affiliates were out there to socialize in a non-formal environment. Non-formal socializing is, in my opinion, much more effective for building lasting relationships with people in the industry on a more interpersonal level which then further increases your chances of forming solid business relationships.
Pro-Tip: Be on your game and don't get too comfortable. Some people, especially after some liquor, have a tendency to spill all their beans and give away too much. This isn't high school, popularity doesn't matter.
Moving on, I only got to spend around 3 nights in Koh Samui as I had to visit Hong Kong for some business. This was my least favourite stop of all. I found the locals to be very uninviting, unwelcoming and rude. Luckily I was only there for 3 nights.
After the snooze-fest in HK, I made my way off to Japan where I hopped from the Northern region of Hokkaido, down to Tokyo and finally to Osaka. One of my best friends from Canada joined in for some travels in Japan, Cambodia & Vietnam. We spent a few days snowboarding in Niseko during the day there but unfortunately missed out on the fresh snow since the season was coming to a glorious end. We still got to catch some good runs though and I'll definitely be back mid-season to catch some fresh POW!
I met and mingled with affiliates who were living in Japan on extended visas and was able to do a bit of my own research on their advertising and mobile market, coming to this fine conclusion: "Good Luck!"… Japan is definitely not an easy, nor a cheap market to break into. Banner blindness is rampant. Advertisements are plastered from head to toe on nearly everything and it's incredibly difficult to stand out.
I can't imagine it being much easier to break the mould Online or on mobile devices, as the world the Japanese are accustomed to is dominated heavily by product advertisements. These advertisements are ridiculous and outrageous at times. I wish I had some examples. Some of the most creative and hilarious marketing I've seen came straight out of Asian countries, namely Malaysia and Japan. In regards to culture and food, Japan tops it at #1 as one of my favourite countries. Most respectful, friendliest people in the world and the food is awesome. Make sure to check out Dotonbori in Osaka, try some Takoyaki, Okonomiyaki and Yakitori (my favourite).
My next move was into Cambodia to do a little bit of exploring there and to gain some insight on where the country stood regarding mobile devices and their culture. My conclusion on this is that, whilst they do indeed have decent 3G connectivity (as tested with my iPhone 5), I didn't notice a large amount individuals who owned smart-phones, rather, predominantly the older style "feature phones". All in all, it's still quite a developing country and will need several years before more and more people  have affordable access to smart phones.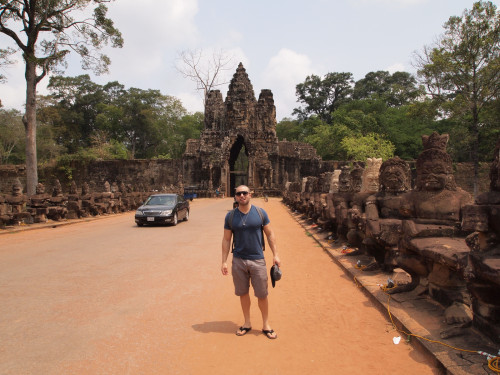 The next leg was Vietnam, where I visited Hanoi and Ho Chi Minh City. I made an effort to head out to Halong Bay whilst there as it's a must-do touristy thing, but I also made sure to study their surroundings and see what advertising was like as well as mobile-device presence. Vietnam is a much more established, developed country and advertising isn't as crazy as Japan's is, however, it's still regarded as third-world.
I also found that smart-phones were more common than other south-east Asian countries I've visited. Vietnam seems like a much more appropriate market to approach with mobile campaigns as it' s definitely a growing market and the economy seems to be a bit better than other countries in the region (not including Singapore). I'd definitely keep it on my radar.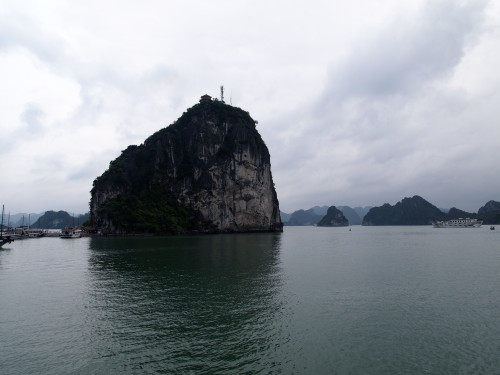 My next move was on to Singapore, where I would catch up with a childhood friend of min, and also have an industry friend meet up for some shenanigans.  Myself and Genji met some other affiliates based in Singapore and had a great time talking and making potential future business allies. One thing to note,  and i'm sure most people are aware, is that Singapore is an incredibly established & wealthy country with some of the worlds strongest banking and impressive buildings. Singapore is possibly one of the best places to have your business centralized, however it is seemingly getting harder and harder to get set up there. All this comes with a high-price tag, unfortunately, as is an incredibly expensive city to reside in, but if in Asia, and within your budget, it is definitely worth the visit.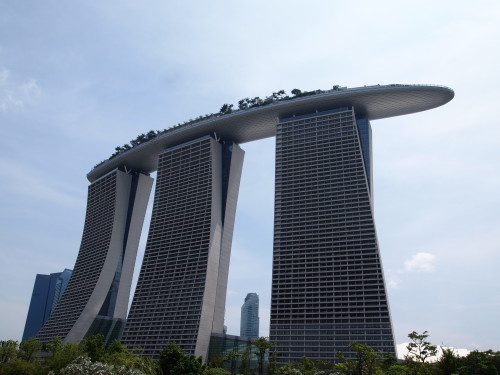 Afterwards, I made my way back into Thailand, where I spent some time in Phuket, meeting other fellow affiliates and getting some tailor-made shirts so I can look snazzy and sharp for all my future meetings. I had a little bit of time to kill before the Neverblue Roadshow in Bangkok where one of the largest names in the industry, Charles Ngo, spoke for several hours and dropped some "Ngo Bombs" on us. Whilst I found a lot of the topics and content I was already familiar with and had some decent knowledge on, there were definitely some golden nuggets dropped by Sir Charles and I would highly recommend his talks to anyone fresh in the industry.
All in all, a great trip all round, definitely happy to be back to my desk to get some new campaigns and ideas in action and glad I took the time to make it out! Thanks to everyone who organised the meet-ups!!
PS: I noticed a lot of fellow affiliates had their fair share of curiosity about fitness & getting into shape. Since I have been a natural-bodybuilder for the past 12 years, I have learned a thing or two and could definitely point people in the right direction. If this is something that would interest you, drop a comment below and if enough people show interest, I'll start posting about fitness!
Thanks for reading.
#STMBKK from STM Videos on Vimeo.
-=-=-=-
If you're looking for further Affiliate Marketing Guidance, check out StackThatMoney. Best community of experienced marketers from around the globe, exclusive meetups, follow along's, tutorials and the knowledge of a thousand sun-gods.
-=-=-=-
Can't Decide Tracking Software?
I've recently switched over to a new tracking platform called Thrive by the guys over at iPyxel which I love. It's still in development, but is constantly improving and making strides, and the best part about it can be self-hosted. The offer a 30-day trial and it's $99 a month thereafter which is well worth the investment.
Those on a smaller budget can still opt to go the CPVLab route, another favorite of mine but a little more outdated. It is, however, more suitable for PPV traffic if that's your traffic of choice.