Travel Tips to Ensure a Better Journey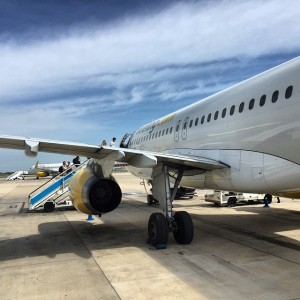 Often I get asked how I manage stay productive and travel for most of the year, or at least the discussion comes up, and the answer to that question is a variety of things that contribute to it. I've become a lot better at travel over the years, with better preparation, more efficiency and more productivity in my days. It's hard to stay on top of things when you run an online business and are packing, unpacking, moving, checking in, checking out, hunting for food, sightseeing, sleeping, researching, booking hotels, renting cars, booking flights and the list goes on and on.
Over time you learn some crucial lessons. You learn to ask the right questions and scope your accommodation out before you blindly book something – a mistake I've made before.
You learn how to pack better, what to pack, when to pack, how much time you need to get to and from the airport, travel options, being prepared for a long haul flight (ESPECIALLY regarding your business), how to get yourself into a local gym for free or cheap and to never let certain things monopolize your time.
Right now I am on the butt-end of my most recent journey which began back in January on the western side of America. I started off in LA and San Diego for about a week then hit up Las Vegas for Affiliate Summit West before heading up north to Whistler Canada for the STM Meetup. Afterwards I took a quick trip over to Calgary before heading back down to San Diego to catch the A4D Meetup (during Traffic & Conversion Summit), then drove over to Orange County & Los Angles for a few meetings.
After soaking up much of California's beautiful weather, I flew over to  Miami for a few days to meet a new Nutra Advertiser then over to New York for a week where I had some meetings with a couple traffic sources, an affiliate network and some industry friends.
Then I ventured over to London for the incredible STM meetup before heading to Spain to catch Las Fallas in Valencia, and explore much of Barcelona. My trip didn't end there. I then flew over to  France, stopping in Annecy for a few days to see a close friend, then over to Paris to learn more about the city, culture and the local Parisian market.
I ended up venturing to Amsterdam to spend time with a bunch of the STM guys, talk shop and celebrate mine and friend's birthday before heading back to London for a week, after which, I flew to over to Thailand where a huge affiliate population resides. I spent a bit of time in Bangkok and wound down the trip for a couple days in Krabi (Ao-Nang & Railay), which was a lot of fun!
As I write this, I am on my last leg back to Melbourne via Sydney. Phew! Exhausted.
Read my other article on how I managed to do all of this flying in business/first class saving myself a tonne of money and acquiring a nice chunk of frequent flyer points and status credits here.
Freeing up my time to do the things I like, or must do to stay sane whilst on the road so much is a big priority for me, such as eating good quality food, staying on top of my fitness, finding time to explore the area I am in whilst managing to accomplish any business-related objectives at hand, researching local markets (human behavior, level of local advertising, spying on mobile advertising in said cities etc..) and of course, staying on top of my affiliate campaigns.
A really great takeaway from travel as a media buyer, and which may help you understand why certain geographical regions respond better to certain online advertising, is the amount of exposure there is to advertising in day to day life. For instance, in Asia, specifically, Japan, you cannot look in any one direction without witnessing some sort of intense, colorful, seemingly 'busy' advertisement(s) full of weird creativity and humor. On the contrary, somewhere like France didn't seem to overwhelm me and felt quite the opposite in that regard. If anyone has ever bought media in both countries, there's a chance you'll see some sort of correlation there and how performance and user engagement can differ significantly.
As you can see, this is just ONE of my most recent trips. Experience the is best teacher, so here we go, on to the tips!
Tip 1: Packing – My Approach
Use Packing Cells
I absolutely love these things. The ones I use are from Kathmandu. I know there are many other companies out there that make these, so don't hesitate to shop around for some, otherwise, go to your local Kathmandu store (if there is one in your city) or if you're ever traveling and can get to one, get yourself a bunch of packing cells. I have a small one for underwear, a tube-style one for socks, a large one for pants/shorts, another large one for t-shirts, a medium sized one which fits 2 pairs of shoes and a small one to put all my cables in. These things make it so much easier to find what you need in your bag, keeping everything neatly segregated and allowing you to pack and unpack faster.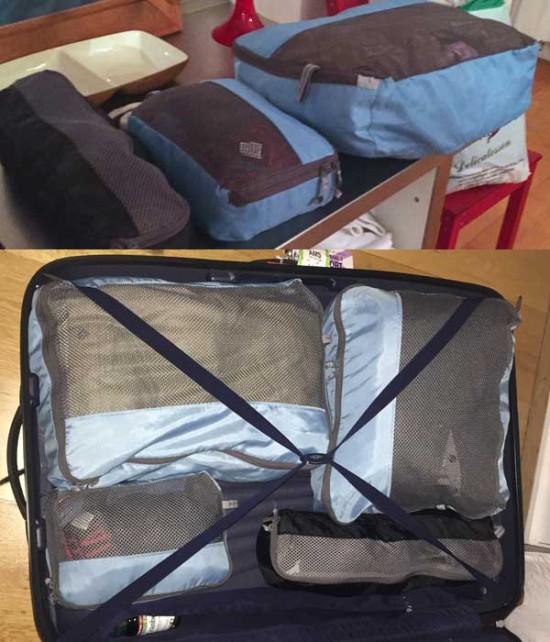 Folding your t-shirts
My approach to this is to layer each t-shirt I am taking with me on top of each other, stack them on top and once done, fold it up into one big pile of folded shirts. This may seem to take longer when you pack / unpack / need a shirt, but it takes about 5 minutes to do and you'll thank me later when most of your shirts are crease-free and you don't need to fold each one independently. Besides, who has time to iron t-shirts?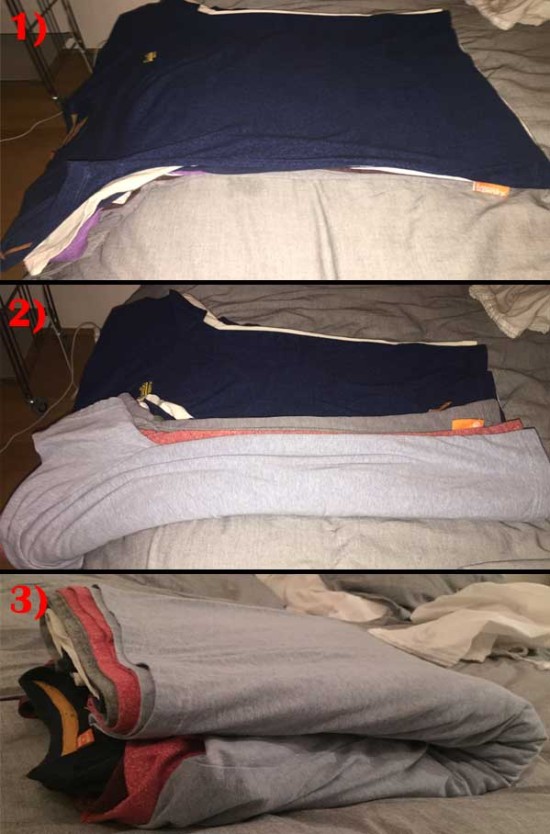 Tip 2: Gadgets You Should Travel With
For me, given I am a traveling professional, working online and in front of a screen, I try to bring the luxuries of my home office with me wherever I go. Of course, much of this is at the cost of more weight in your backpack which can get to become burdensome at times.
The things I ensure to bring with me are:
Keyboard, mouse and mouse-pad
USB monitor (ASUS MB168+)
Wi-Fi Extender from TP-Link (USB) for hotels/airbnb's with bad WiFi Signals (We all know how frustrating that can be and how that can impede on productivity).
Emergency USB charger for when your phone runs out of juice (never fun getting lost in a foreign country)
4-Port Belkin USB hub
Cables for charging all your devices
If you're like me and like to stay put for a week/month in one spot, it makes sense to bring the above things, as you'll be more comfortable and more likely to power through more work, freeing up time to explore/workout/eat/network etc…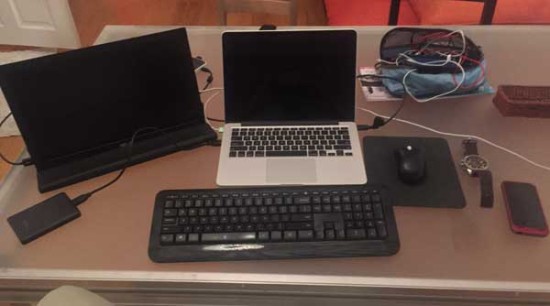 Tip 3: Ask The Right Questions
I've now made it a habit to ask the top 4 questions that are important to me when I travel when seeking out an AirBNB (I always go with AirBnB first before Hotels, more on that in a minute). The general message I send to hosts is this:
"Hey there, I'm interested in booking your place for the above dates and was wondering if it was still available? If so, I have a couple questions regarding the place that I hope you can answer!
I run an online business so solid wireless internet (WiFi) and a comfortable table/chair are both really important. Does your place have a good wireless connection and a suitable working space?
Are there many places to eat, drink coffee or get groceries nearby?
How far away are you from public transport should I need to use it?
And lastly, are there any gym's nearby that you know of which would allow me to do a "drop-in" / "day-pass"?
Look forward to hearing back from you!"
The reason I prefer AirBnB over a hotel if there are good ones available is because you tend to get more space, better and more reliable internet which isn't shared/less secure, a washer/dryer (hotels are expensive, and finding a laundromat is a time-suck!), a kitchen (cooking your own breakfast saves loads of time if nothing convenient is nearby), and lastly, you tend to be able to get one in a better location if you hunt for them. The only downside is that you don't always have a lot of reviews to base your decisions off, which has led me to end up in some shitty AirBnB's over the past few years. I had a few bad experiences in New York, and the place I recently stayed I n wasn't the best in Paris (terrible shower, small apartment, bad Wi-Fi, lots of street noise and noisy renovations at 7am in the morning!).
Tip 4: Travel with Backup's!
What exactly do I mean by traveling with backups? Well, for starters, being in transit, staying in hotels, in locations foreign to your understanding (of safety) , you inherently become susceptible to petty theft. You also become heavily susceptible to losing things, especially if you enjoy a wild night out in exotic, foreign locations (who doesn't once in a while?).
My top tips here would be:
Travel with emergency credit-cards which you leave in a safe place locked away in your room. There's nothing worse than losing your only Credit Card/Debit Card in a foreign country and having no other way of accessing your funds. Recent experiences with me were that one of my Credit-Cards became victim to fraud (swiped) leading to that card being cancelled and was unable to have a new one shipped out to me in time, another card expiring literally the next day, and an ATM at the airport in Madrid eating my card for no apparent reason.
Take a spare mobile phone if you have one in case yours gets stolen or lost. I travel with a spare iPhone, which is always on, and has my Australian SIM card in it in case of emergencies. I was incredibly lucky during this trip as I lost my brand new iPhone 6 on the mountain in Whistler but was able to recover it as an honest individual handed it in (thank you, I owe you a case of beer!). Guess it was good Karma for handing in a phone I found on the mountain in Niseko, Japan, earlier last year.
Use a backup service to backup all your data, Skype conversations, photos, work documents etc.. There are many cloud storage services out there you can use such as Copy, Dropbox and more which can help sync up multiple devices and allow you access said files online, however, I would highly recommend using a good backup service such as CrashPlan to ensure peace of mind. A friend of mine, Genji, recently had his laptop stolen in Honolulu in the blink of an eye, but thankfully for him he had the majority of his files backed up.
Tip 5: Research Places to Eat
In most destinations, you can get away with using TripAdvisor for most things, including finding well-reviews, great places to eat and drink which is a total time saver if you're the type to wander around endlessly looking for an appealing place to eat and one which won't leave you with nasty food poisoning. Preferentially, if Yelp is available in the city you are visiting, it tends to be my first choice for finding great places to eat. We found some serious winners in Barcelona and ate some of the best food we've ever had.
Tip 7: Save Money Where You Can
Services I love to use for finding flights, accommodation or car rentals are:
Flights:
Accommodation:
Car Rentals:
In America: HotWire (great for getting LDW insurance for $9 USD a day). Better for North America.
Rest of the world: Kayak
Tip 8: Check the Visa Requirements!
One thing I've learnt the hard way is that not all countries have visa on arrival system, a visa-waiver program etc.. and it is all very dependent on which passport you hold. For example, whilst I was traveling around Cambodia, I was supposed to fly over to Hanoi, Vietnam from Siem Reap, but once I had gotten to the airport, I was told I needed a visa before I could even board my flight.
What eventuated out of that situation was I had to pay a fee to reschedule my flight to the following day, forfeit a night's accommodation in Vietnam (Make sure you call the hotel in situations like this), find a last minute place to shack up for the night, apply for a Vietnamese tourist visa, wait patiently til the next day for it to be approved, have the hotel print it out and finally fly to Hanoi. The whole process could have cost around $20 USD, but because I neglected to do the research, I got set back around $200 and lost a day of travel.
That's it! I hope you enjoyed reading, and I hope it helps you on your next trip, where ever that may be!
Best, Andrew.